Amata blog
JUST DO IT at 3,883 m
September 28, 2014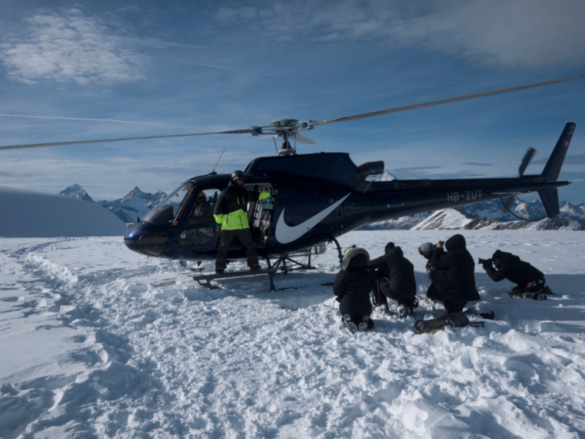 We were recently reminded why Nike's iconic "just do it" slogan is so befitting of one of the world's most famous brands.
The snow & ski season had ended in South America, it hadn't started in North America or Europe, but the show must go on for Nike's "Winning in a Winter Wonderland" TV commercial.
At the moment in question, where in the world are the right snow conditions to film dynamic scenes of US Olympic ski champion Julia Mancuso racing the Super G and US Olympic snowboard champion Scotty Lago performing daring stunts from a helicopter for Nike's commercial? Answer… not many places on earth!
However, here in the Swiss Alps, Zermatt's Klein Matterhorn glacier, at 3,883 m, provides one of the highest and most accessible glaciers in the world. Guaranteed snow 365 days a year!
Under the helm of MJZ's director Rupert Sanders (Snow White & the Huntsman), and DoP Greig Fraser (Zero Dark Thirty, Killing Them Softly, Snow White & the Huntsman) Amata assembled a 50 strong crew made up of snow and glacier specialists for a two day, three camera shoot on RED Epic. Every single one of our crew were excellent skiers or snowboarders – most of them practically born in their skis! Without these skills together with years of experience filming in the toughest of alpine conditions, at such high altitude, the shoot would not have been possible.
The logistics of maneuvering crew, equipment, extras, talent and clients to and from the locations were a particular challenge which required a combination of helicopters, cable cars, gondolas, chair lifts, skidoos and specially adapted snow grooming vehicles.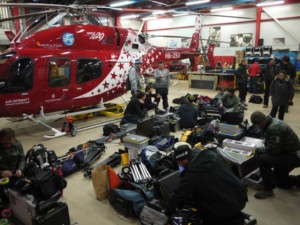 The beautiful village of Zermatt, our serene base camp, lies at 1,600 m, and to make the 2,283 m ascent to the summit there's a choice of either 15 minutes by helicopter or approximately 1 hour via a combination of cable cars and gondolas, with a breathless 300 m walk to reach the slopes. Of course the big differences to consider are the quantity/weight of people/equipment vs. time and cost.
In addition to the experience and technical expertise of the crew, helicopters played an integral role in the success of the shoot. For example, we utilized them to find the jump spot for Scotty's snowboard stunt, re-brand with the Nike swoosh for feature as the jump chopper, shoot aerials of Julia's Super G race, transport heavy equipment and crew quickly, and transport VIP's.
We understand that MJZ and Nike were very happy with the success of the shoot and very proud of the film. The skiing and snowboarding scenes may only feature briefly in the ad, but we hope you'll agree (even if we are bias) that they look very cool!
Why not check out the ad here (link?) or if you are looking for snow, get in touch, we'd love to do it at 3,883 m with you too!